On Monday, June 20th, we are fortunate to be joined at our Fellows Welcome Reception by Andrew S. Potts, J.D., the Exective Director of US/ICOMOS. Before that night, get to know Mr. Potts.
After working for twenty years in the heritage field as a historic preservation lawyer, Andrew Potts was appointed the Executive Director of US/ICOMOS in February of 2015.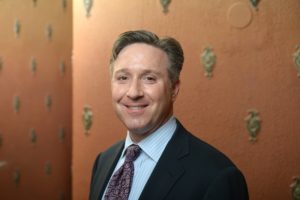 Mr. Potts holds a J.D. from Indiana University and is licensed to practice law in the District of Columbia. From 1999-2015 he practiced law with the international law firm of Nixon Peabody LLP. He was elected to the partnership of the firm in 2006. He previously served as Associate General Counsel of the National Trust for Historic Preservation and before that as a lawyer for the National Equity Fund, a national nonprofit affordable housing finance intermediary. He was a law clerk for the Honorable Randall T. Shepard, chief justice of Indiana (retired), a noted historic preservation lawyer. Prior to becoming US/ICOMOS Executive Director, Andrew sat on the US/ICOMOS Board of Trustees from 2010-2015, serving as its Vice Chairman in 2014. He is a member of the ICOMOS International Committee on Law Administration and Finance (ICLAFI) and serves as ICOMOS Focal Point for the United Nations Sustainable Development Goals (SDG) Process.
Andrew's legal career focused on financial incentives for the rehabilitation, and retrofitting for energy efficiency, of historic buildings in the context of community development. He  represented government, nonprofit and private sector clients as both owners and financers of the rehabilitation of historic buildings. He also worked on numerous public policy projects. He served as Vice President of the Historic Tax Credit Coalition and acted as outside counsel on climate change and energy efficiency policy for the National Trust for Historic Preservation. In the later capacity, elements of legislative proposals he wrote were included in the American Clean Energy and Security Act of 2009 which was approved by the House of Representatives on June 26, 2009. He served as the Co-Chair of the 11-organization national Task Force which issued the 2011 report, "Aligned for Success. . . Recommendations to Increase the Effectiveness of the Federal Historic Preservation Program." In 2008, Mr. Potts drafted portions of "Historic Preservation and Barack Obama's Blueprint for Change," a briefing paper submitted to the campaign of presidential candidate Barack Obama. He served as staff support for the Using Historic Properties as Economic Assets Issue Area of the 2006 Preserve America summit.
Mr. Potts sits on the Executive Committee of Preservation Action; the Board of Directors of the Bohol Restoration Group (which is fundraising for restoration of world heritage sites damaged  by Typhoon Haiyan) and is a former Director of Indiana Landmarks and of the League of Historic American Theaters (LHAT) and a former Trustee of the DC Preservation League. Andrew is a recipient from the National Trust for Historic Preservation of the John H. Chafee Trustees Award for Outstanding Achievement in Public Policy. His most recent publication is When Preservation Came to the Tax Code, Forum Journal (Spring 2013).