Laura Blokker and Heather Knight
Louisiana's Bousillage Tradition: Investigation of Past Techniques for Future Practice
In 2009, Ms. Blokker and Ms. Knight received a Fitch Mid-Career grant to study the Colonial building technique of bousillage, (wood frame construction with naturally dried tempered clay infill), which was used in Creole and Acadian Louisiana during the eighteenth and nineteenth centuries. They will produce a report that will combine materials analysis with oral history, field studies, trials and mock-ups. They plan to present their findings at conferences next year and aim to eventually publish a full primer as a sequel publication.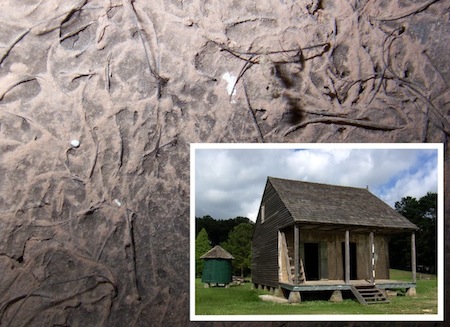 Bergeron House, Rural Life Museum, Baton Rouge, Louisiana showing bousillage exposed on front elevation, with detail of interior surface of bousillage, Yucca House, Melrose Plantation, Melrose, Louisiana in background. (Credit: Laura Blokker, 2008.)