YOU'RE INVITED:
Meet the 2018 class of Fellows
The Trustees of the Fitch Foundation are delighted to announce the recipients of the 2018 James Marston Fitch Mid-Career Fellowship and Richard L. Blinder Award. Join us for a reception to congratulate Laura Buchner and Jonathan F. Bell & Ian Baldwin of DUAL, and to learn more about their intriguing areas of study. All are welcome, though space is limited.
FITCH FELLOWS WELCOME RECEPTION
Tuesday, September 25th, from 6PM to 8PM
at the offices of
Beyer Blinder Belle Architects & Planners
120 Broadway, 20th Floor
New York, NY 10271
Advance RSVP required to [email protected].
MEET THE FELLOWS: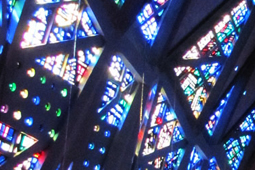 Laura Buchner
The Luminous Dalle de Verre of Gabriel Loire: The Fabrication, Deterioration, and Conservation of Faceted Glass.
Recipient of the 2018 James Marston Fitch Mid-Career Fellowship
Dalle de verre, also known as faceted glass, was developed in France in the late 1920s and early 1930s, during a period of technical advances in reinforced concrete, and peaked from 1955 to 1975. Conservator Laura Buchner will research the fabrication methods, deterioration patterns and conservation techniques of dalle de verre, focusing on panels designed by the prolific French stained glass artist Gabriel Loire. Through her Fitch-funded research, Buchner will be able to effectively characterize decay mechanisms towards the goal of informing conservation decisions associated with dalle de verre, a hand-crafted material. More about Laura's project.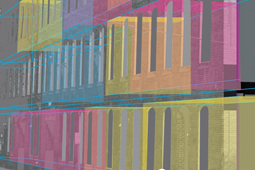 Jonathan F. Bell & Ian Baldwin, DUAL
SLICE: The Inhabited Facade
Recipients of the 2018 Richard L. Blinder Award
An occupied building strengthens the social and economic fabric of the city, but the resources needed to reactivate abandoned or underused buildings are substantial. With SLICE, Jonathan F. Bell and Ian Baldwin of DUAL ask: What if a large building awaiting preservation could be downsized to focus on its most important resource – its urban facade?
By building out the area right behind the facade, a SLICE is created: a vertical stack of rehabilitated space just big enough for useful occupancy that brings the exterior alive. Bell and Baldwin will build upon the success of their SLICE prototype, the Arnold Building in downtown Providence, RI, with an 80,000 sq.ft. former brewery dating from 1892 in Providence's Eagle Square. This case study will result in a portfolio of research into current practices and technologies to apply the SLICE methodology to other buildings, anticipating a broad, flexible range of applications to encourage SLICE implementation beyond the northeastern United States, where different outcomes will surely exist. More about Jonathan and Ian's project.