RICHARD L. BLINDER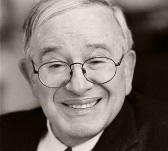 Richard L. Blinder, FAIA, a graduate of Harvard School of Architecture and the University of Cincinnati, was a founding partner of Beyer Blinder Belle Architects & Planners and past Chair of the James Marston Fitch Charitable Foundation. He died at the age of 71 on September 7, 2006 in China, where he was designing the Shanghai Cultural Plaza, including a new theater, restoration of existing buildings and a large urban park.
His work as an architect involved the intersection of old and new—that is, preservation through restoration, combined with contemporary architecture, in order to adapt the old for ongoing use. Much of his career was devoted to the design of cultural facilities—theaters, museums, art centers, schools, and libraries. Among his notable projects along these lines were his addition to the Montclair Art Museum, the renovation and combining of three existing buildings to form the Center for Jewish History and the transformation of Barney's department store into the Rubin Museum for Himalayan Art. At Beyer Blinder Belle his work was often done in collaboration with James Marston Fitch, who joined the firm in 1979 as a principal and Director of Historic Preservation. In 1989 Richard Blinder was instrumental in setting up the James Marston Fitch Charitable Foundation and served as its president until 2001.
It is in the spirit of Richard Blinder's work and his collaboration with James Marston Fitch and in recognition of his extraordinary ability to integrate preservation and innovation in the creative process that the James Marston Fitch Charitable Foundation has created the Richard L. Blinder Award for studies that explore the architecture of cultural buildings which integrate historic preservation and new construction—past, present and future.