Fitch Foundation announces launch of
"Queens Modern: The Architects"
by 2017 fellowship recipient Frampton Tolbert
Digital project documents vernacular mid-century architecture in Queens, New York,
and presents new insights from previously-untapped archives and oral histories
December 17, 2018 — New York, NY — The James Marston Fitch Charitable Foundation is pleased to announce the launch of "Queens Modern: The Architects," a project by fellowship recipient Frampton Tolbert and available at queensmodern.com.
"Queens Modern" documents the vernacular mid-century architecture of Queens, New York, and illustrates how high-style modernism filtered down to the masses and came to define New York City's largest borough. As a Fitch Fellow, Frampton Tolbert has examined the records and legacies of dozens of architectural firms active in Queens and across the region in the mid-20th Century, adding important new content to the historical record.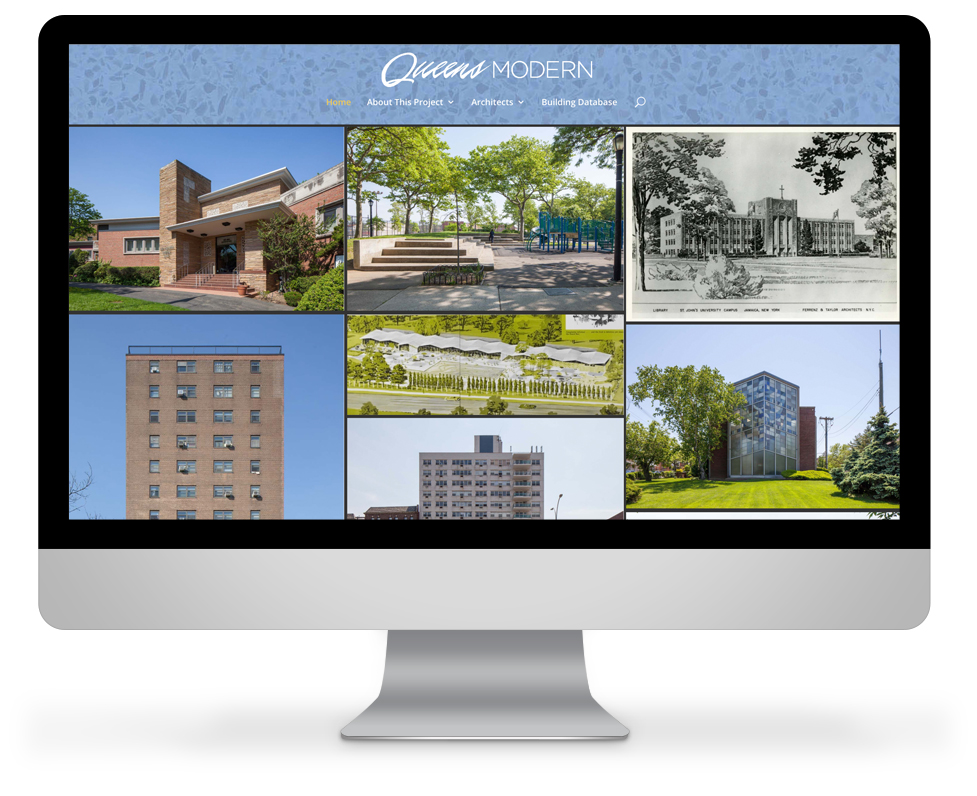 "The mid-century architecture of Queens is significant, yet it remains largely unstudied and certainly underappreciated," said Fred Bland, Chairman of the Fitch Foundation. "Naming Frampton Tolbert as one of our 2017 Fitch Fellows was an opportunity for us to support truly necessary research that will deepen our collective understanding and make new source material available to the field at-large."
Fellow Frampton Tolbert stated, "I was thrilled with the opportunity the Fitch Fellowship gave me to dig deeper into the careers of architectural firms that helped define New York's architectural landscape during the mid 20th century, but previously we've known so little about."
For "Queens Modern: The Architects," Tolbert researched the work and leadership of architecture firms ranging from the lesser-known A.F. Meissner and Joseph Mathieu, who focused on deco and proto-modern church designs of the 1940s, to more prolific firms such as Kelly & Gruzen and LaPierre, Litchfield & Partners, who secured a diverse array of commissions over a much longer period of time.
"I'm thankful for the support of the Fitch Foundation to complete this work, the second phase in my larger 'Queens Modern' project, started in 2014 with the help of funding from the New York State Council on the Arts," said Frampton Tolbert.
A primary source for Tolbert's investigation was the Queens Chamber of Commerce Building Awards program, an annual presentation for excellence in design and construction. The Chamber honored nearly 400 properties over a 22-year period, from small one-story industrial buildings to new housing developments for tens of thousands of residents.
Visit "Queens Modern: The Architects" at queensmodern.com.
Contact
For additional information, please email Cristiana Peña, Executive Director, at [email protected].