Andrew Guilford received the Fitch Mid-Career Fellowship in 1991 for his research on the preservation of tribal history. Since then, he has continued to teach and research on the subject, being interviewed in September 2014 for a PBS segment on the impact of various used (extreme sports, for example) on public lands. Meet Dr. Andrew Gulliford below.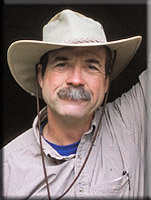 Andrew Gulliford is a professor of history and Environmental Studies at Fort Lewis College in Durango, Colorado. He teaches popular college courses on wilderness, national parks and environmental history and is the author of America's Country Schools, Sacred Objects and Sacred Places: Preserving Tribal Traditions, and Boomtown Blues: Colorado Oil Shale, which won the Colorado Book Award. He also edited Preserving Western History, which was voted one of the best books on the Southwest by the Tucson-Pima County Library. His most recent book is Outdoors in the Southwest: An Adventure Anthology which won the 2014 Arizona/New Mexico Book Awards in the category of nature/environment and Best Book on Arizona.
He writes columns about the west for the Durango Herald, the Grand Junction Daily Sentinel, Utah Adventure Journal, and High Country News.
Gulliford has had led tours across the West by canoe, raft, horseback, van, cruise ship, private train, and private jet for the Smithsonian Institution, National Geographic Society, the National Trust for Historic Preservation, Rocky Mountain Public Broadcasting Service (PBS), Great Old Broads for Wilderness, History Colorado and the San Juan Mountains Association.
Dr. Gulliford has received the National Individual Volunteer Award from the U.S. Forest Service for wilderness education, and a certificate of recognition from the Secretary of Agriculture for "outstanding contributions to America's natural and cultural resources." For a decade he held a federal appointment to the Southwest Colorado Resources Advisory Council of the Bureau of Land Management.
Learn more about Dr. Gullliford's ongoing work at www.andrewgulliford.net.