Dr. Andrew Gulliford
Management of Tribal Cultural Resources from the Perspective of Native Americans: Museums, Language, Customs, Interpretation of History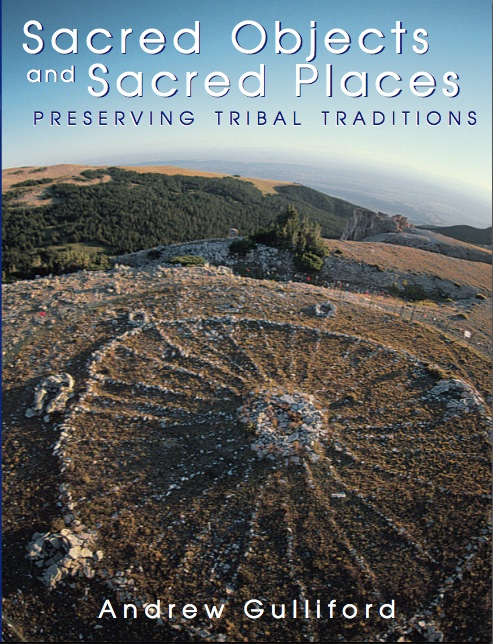 Dr. Andrew Gulliford, Director of the Public History and Historic Preservation at Middle Tennessee State University, received the 1991 grant for research on Tribal history preservation. From this research, Dr. Gulliford wrote the 2002 book, Sacred Objects and Sacred Places: Preserving Tribal Traditions that covers issues, including the establishment of tribal museums, the preservation of language and customs, the re-orientation of interpretation at historic sites, and the identification of opportunities for appropriate cultural tourism. Click here to read more.
Dr. Gulliford also published his research in three professional articles: "Native Americans and Museums: Curation and Repatriation of Sacred Tribal Objects" (The Public Historian, v. 14, #3, Summer, 1992); "Tribal Preservation and Cultural Management" (Historic Preservation Forum, v. 6, #6), and "Bones of Contention: The Repatriation of Native American Human Remains" (The Public Historian, v. 18, #4, Fall, 1996).
Excerpted Reviews —–December 2002
Gulliford's work is more than a book; it is a monument that will serve generations to come as the reference and guidebook for anyone interested in discovering and preserving tribal traditions. It catalogs the revival of Native American cultures that is sweeping the country …
— Multicultural Review
This collection is put together with loving sensitivity to the indigenous people of America.
— Bloomsbury Review
. . . examines topics centering on contemporary Native American religious, cultural, and political identities: repatriation of physical and cultural remains, governmental recognition and protection of sacred sites, and the maintenance of contemporary ceremonial and cultural practices . . . this is not a tourist guide to interesting Native sites but rather a manual to open the heart and intellect of all people to the importance of these issues.
— Choice
This well organized, readable book takes readers on a tour of the major, complex issues in tribal cultural and historic preservation movements . . .
— Western Historical Quarterly
Gulliford presents an Indian point of view with a minimum of inflammatory rhetoric. A particular strength of this book is the inclusion of many "native voices" through excerpts from the author's extensive interviews with Indians. Gulliford has succeeded in his stated goal of presenting an introduction to tribal preservation . . .
— Oregon Historical Quarterly
Sacred Objects and Sacred Places {is} a work of advocacy. For all of its grounding in bibliography and fieldwork—and the research is impressive—this is not a book of disinterested judgment, but rather an impassioned argument.
— Journal of American History
. . . invaluable for anyone wishing to understand the complex issues surrounding the protection of sacred objects and sacred sites . . . supports the view that resolution of many current repatriation controversies in favor of Tribes will not only aid their cultural survival in a changing and increasingly complex world, but it will also promote the survival of anthropology and archaeology in North America . . . essential reading for any person working with American Indians.
— American Anthropologist